Applicants for PERFORM PhD positions will be selected on their potential for scientific excellence and adaptability to work in a multicultural environment. Recruitment will be a transparent, open and equal process following the guidelines of the European Charter for Researchers and the Code of Conduct for the Recruitment of Researchers.
To ensures the procedure is transparent, open and equal for all applicants and the selection of PhD candidates follows the recruitment criteria of scientific excellence PERFORM set up a multi-step application procedure.
Call 1 and Call 2 of this process are allready closed!
Can applications still be sent in?
Yes, applicants have to fulfill multiple requirements to be eligible for PERFORM. E.g. applicants must be eligible to enroll in the PhD programmes at the participating universities. These requirements are very strict at some organisations and have to be checked for every applicant. It is possible that there will be open positions even after the recruitment workshop. Consequently, we encourage everybody to still send in applications. These applications will be evaluated in incoming order for every position that is still open after the recruimtent workshop.
Application Procedure Steps for Call 1
We are currently evaluating the received applications. Committed to following an open, transparent, impartial equitable and merit-based recruitment procedure that is fair to all applicants, we set up an evaluation process that takes more time an expected. Consequently our inital timeline was too ambitious. According to the new timeline evaluators will rate all applications till 28.02.2018. Every applicant will be informed about the outcome of this process. Due to the new timeline participation at the recruitment workshop will only be remote via video link. We appologize for the delay, we are working hard to get you the information as soon as possible.
Application Procedure Steps for Call 2
Call 2 is also already closed. We are currently evaluating the interviews of the first interviews. The following figure shows the process steps: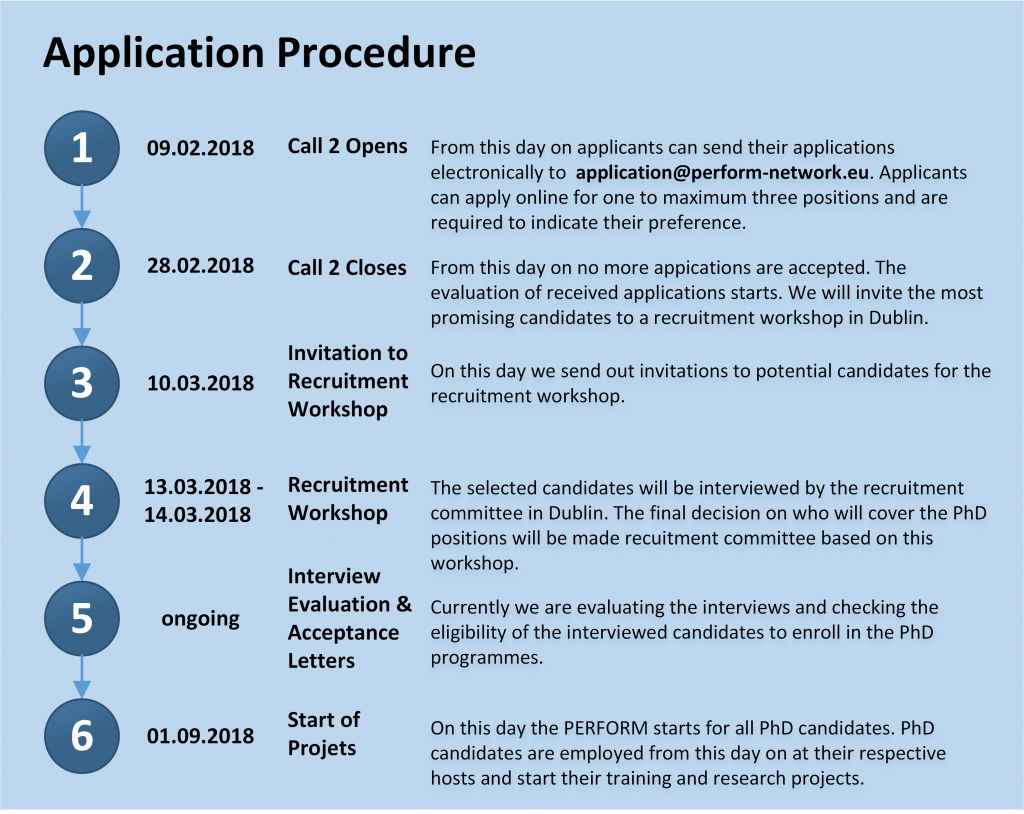 09.02.2018 – Call 2 Opens: From this day on applicants can send their applications electronically to  application@perform-network.eu. Applicants can apply online for one to maximum three positions and are required to indicate their preference
28.02.2018 – 11:00 AM (GMT) – Call Closes: From this day on no more appications are accepted. The evaluation of received applications starts. We will invite the most promising candidates to a recruitment workshop in Dublin.
10.03.2018 – Transmission of Invitations to Recruitment Workshop: On this day we send out invitations to potential candidates for the recruitment workshop.
13.03.2018 – 14.03.2018 – Recruitment Workshop (Dublin): The selected candidates will be interviewed by the recruitment committee in Dublin (remote participation via video link).
ongoing – Evaluation of Interviews and Transmission of Acceptance Letters: Currently we are evaluating the interviews and checking the eligibility of the interviewed candidates to enroll in the PhD programmes. We will send out acceptance letters for all PhD positions that could successfully be filled at the recruitment workshop as soon as we can.
01.09.2018 – Start of Project: On this day the PERFORM starts for all PhD candidates. PhD candidates are employed from this day on at their respective hosts and start their training and research projects.
Documents to be included in the Application
Applicants will need to prove that they are eligible, according to the Early Stage Researcher definition, mobility rule, and English language proficiency. Before applying , please read the eligibility criteria. Consequently an application must include the following documents:
a letter of motivation,
a detailed CV,
Master's degree transcripts,
additional documents that proof the eligibility for the corresponding doctorate degree program and
proof of sufficient English language skills.
Due to specific requirements at certain host universities additional information may be required. Make sure to check the specific requirements for every ESR position.